You'll need a copy of Microsoft Excel for Windows or Mac to run Lender Spreadsheet Pro.
If you have not received your welcome email within 10 minutes, please check your Spam or Junk folder.
Why do I need an account?
Your account with us provides you with a dedicated download page and a PRO members only area where you can request support and send us files.

If we release any updates in the future or have any other files for PRO members, these will be available in your account. You do not need a download link, all you need to do is login to your account.

What happens after payment?
Once payment has been received, you will be returned to our login page, where you can login using the account you just setup and download your purchase.

Is my purchase secure?
Yes, you will be transferred to PayPal to make payment. We do not see or store your payment details.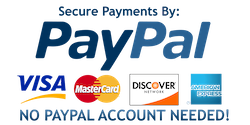 Will I be notified of my purchase?
You will receive a welcome email to the email address you registered with.

What do you mean about contact for News, Upgrades and Special Offers?
You can tell us if you would like us to contact you in the future if we have news, details on upgrades or special offers. We NEVER SELL YOUR DATA to anyone and we won't send you many emails.
Still having a problem, please send us a message:
Get in touch if you're having problems, need something specific or have questions about our spreadsheet.
Microsoft® Windows® and Microsoft® Excel® are registered trademarks of Microsoft Corporation in the United States and other countries. Mac® and macOS® are trademarks of Apple Inc., registered in the U.S. and other countries.
By continuing to browse or by clicking 'Dismiss' you agree to the storing of cookies on your device to enhance your site experience and for analytical purposes. To learn more about how we use cookies, please see our Cookies Policy and Privacy Policy.