Lender Spreadsheet provides a Balloon Notice letter template to send to your borrower as a courtesy to remind them that their mortgage is ballooning soon.

Print your Balloon Notice
It is easy to print your Balloon Notice letter or save it as a pdf file. Learn more about printing and saving to pdf.

Add a Signature Image
If you intend to save your form as a pdf and email it to your borrower, you can add an image of your signature, so that you do not need to print the form to paper first, sign it and then scan it to pdf. Learn how to add an image of your signature to your letter.
Click on the Balloon Notice worksheet.

There is only one option for this letter and that is to enter the date of the letter. If left blank today's date will be used.

Enter Date of Letter
In our example, the balloon date of the loan is May 1 2021. We want to send a letter to our borrower on April 1 2021.

In Cell J3 enter the date you wish to use. In our example, we entered 4/1/21.

As soon as you enter a date, you will notice that the date shown in Cell E3 changes to the date you entered.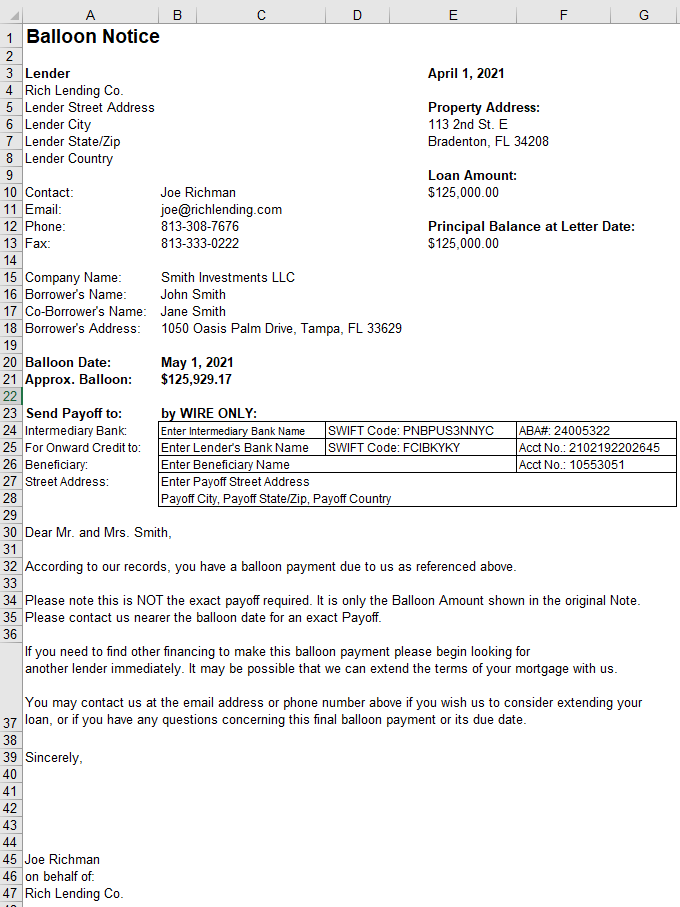 You can customise some of the text of the Balloon Notice. Row 37 includes the following text to amend if required:

If you need to find other financing to make this balloon payment please begin looking for
another lender immediately. It may be possible that we can extend the terms of your mortgage with us.

You may contact us at the email address or phone number above if you wish us to consider extending your
loan, or if you have any questions concerning this final balloon payment or its due date.

Simply click in the cell to edit. Click on Row 37 in the far left bar and drag it up or down to change the row height.

To add a blank line, press the alt+enter keys together whilst editing the cell.
Get in touch if you're having problems, need something specific or have questions about our spreadsheet.
Microsoft® Windows® and Microsoft® Excel® are registered trademarks of Microsoft Corporation in the United States and other countries. Mac® and macOS® are trademarks of Apple Inc., registered in the U.S. and other countries.
By continuing to browse or by clicking 'Dismiss' you agree to the storing of cookies on your device to enhance your site experience and for analytical purposes. To learn more about how we use cookies, please see our Cookies Policy and Privacy Policy.