In this final section on Payoffs, we look at how to close off your loan after you receive your payoff. As soon as you have received your Payoff and are sure it has cleared, you can close off your Loan.
Make sure that you leave the date in Cell G2 on the Payoff worksheet as you had it for your Payoff Statement, covering the period of your Payoff.

If you don't have the right date, then the Total Payoff you SHOULD Receive will be wrong.
Click on the Setup worksheet.

Scroll down on your screen to Row 65.


Enter the Actual Payoff Date in Cell C65. In our example our Payoff Date was May 17 2021, so we entered 5/17/21 in Cell 65.
Then, enter the Payoff Amount you actually received in Cell C67. We Actually received $125,349.19 and entered this amount.
If the Payoff Amount you entered in Cell C67 is the same as what is expected, shown in Cell C66, then Mortgage Balance will be shown as $0.00.

In our example, our loan can be easily closed, as the Payoff Amount Matches the Expected Amount. If in your loan it does not, then you will see further details below as to what the difference is.

That's it, your Loan is now Closed.
If you get errors or unexpected amounts to Interest etc
Make sure that the date that is entered for the Payoff Start Date on the Payoff worksheet in Cell G2 is the statement period that includes the date you actually paid off. If it doesn't, then the amount expected at Payoff will not be correct. If no date is entered at all then you will receive multiple errors and the Total Payoff will be blank.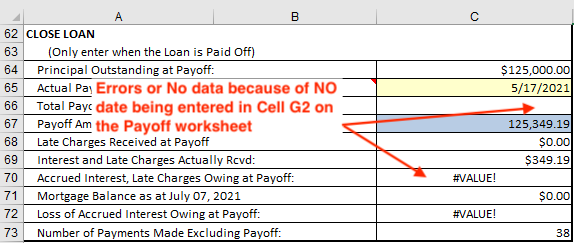 Get in touch if you're having problems, need something specific or have questions about our spreadsheet.
Microsoft® Windows® and Microsoft® Excel® are registered trademarks of Microsoft Corporation in the United States and other countries.
Mac® and macOS® are trademarks of Apple Inc., registered in the U.S. and other countries.
By continuing to browse or by clicking 'Dismiss' you agree to the storing of cookies on your device to enhance your site experience and for analytical purposes. To learn more about how we use cookies, please see our Cookies Policy and Privacy Policy.